Jnana Yatra
"Education is the manifestation of the perfection already in man", says Swami Vivekananda, "We want that education by which character is formed, strength of mind is increased, the intellect is expanded and by which one can stand on one's own feet." Swami Vivekananda was himself an illustrious example of his idea of educated youth.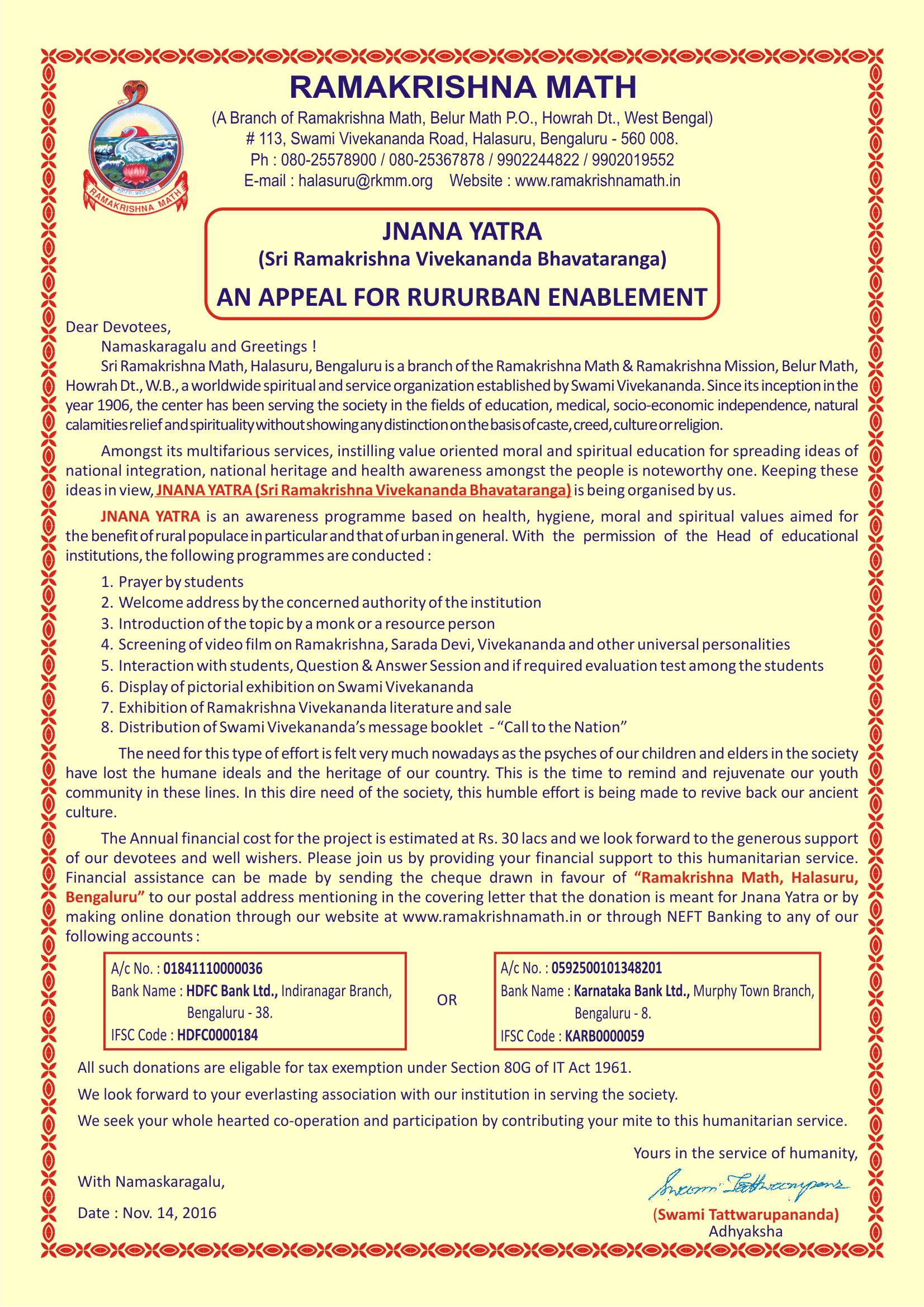 Swami Vivekananda had a great vision for the youth of our country. With a clear philosophy of life along with proper understanding of values and culture, youth can be developed into beacon lights. The presence of even a handful of such youth in the society can make a huge difference in the process of Nation Building.
Previously this activity was knows as Yuva Jagrati.
Subscription form for the Jnana Yatra Programme is available here.
Photos of this program can be viewed here. This link will be updated frequently.
Videos of Jnana Yatra / "Yuvajagrati - An Youth Awareness" Programme Part 1, Part 2, Part 3, Part 4, Part 5, Part 6
In Previous Years, the programme has been conducted in 300 colleges covering about 1,00,000 students. List of Colleges, Previously participating in the Jnana Yatra Programme can be viewed here.
Jnana Yatra
List of Colleges, currently participating in the this program can be viewed here.
If you want to
Know the philosophy of life
Develop your Integrated Personality
Learn Meditation & concentration
Know the importance of ethics and morality
Know the glorious Scientific and cultural heritage of India
You are welcome to join Jnana Yatra - a network of study circles.
This programme consists of
Meeting the students in college and introducing them to the study of Philosophy of life, Values and Culture.
Gifting of related literature to the college library and encouraging students to pursue the deep study in these new lines of thoughts.
Distribution of a complementary book 'Swami Vivekananda - His Call to the Nation' to all participants.
Creation of Study Circles in the Colleges.
Conducting regular Youth retreats and Annual Conventions.
Organizing an exhibition cum sales of Ramakrishna-Vivekananda Vedantic literature in the colleges.
Maintenance of a Webpage dedicated to this programme in our Ashrama's Website ( www.ramakrishnamath.in ).
For more details about program, email us at halasuru@rkmm.org.
You can also fill up below form to send us a Message/Query .
This programme is launched on the auspicious day of Sri Krishna Janmashtami on 24th August 2008.